STANDING IN THE SHADOWS OF HIP HOP
---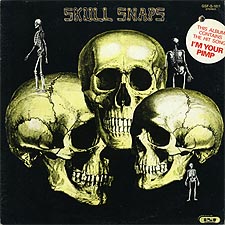 Skull Snaps. No matter who you are, those two words deserve a permanent spot in your hippocampus. Those two words represent music, head-bobbing, toe-tapping, crate-digging, treasure hunting, and history. But those two words also represent mystery and anonymity, invoking images of clandestine recording sessions by nameless, faceless genius musicians. Those two words have always shone brightly yet obscured from beneath a shroud of years gone by and names forgotten, like a beacon lighting the way home for wayward crate diggers. Those two words have begged silently to be properly illuminated for decades, and the lights just flickered back on.

Even if you've never heard of them, you know the Skull Snaps. Their song "It's a New Day," released in 1973 on their self-titled album, opens with a sick two-measure drum break that is one of the most-sampled loops in history, along with "Funky Drummer," "Synthetic Substitution," and "Impeach the President." And its status is well deserved: this drum break has the power to bring even the most jaded beat junkie to his knees in thankful prayer.

This drum break has served as the foundation for countless sample-based tracks from nearly every big-name hip-hop act of the past two decades. And I urge you to consider the literal definition of that word: "foundation". The American Heritage Dictionary defines it as "the basis on which something stands or is supported"; and that is exactly what this drum break has been to the many tracks that have employed it. Remove the drums-the basis-and the tracks cannot stand.

Unfortunately, despite the infamy of this ubiquitous drum break among producers and beat diggers, not much is known about the Skull Snaps. In fact, I'd wager that only a handful of folks could name any of the Skull Snaps band members. And a 1995 bootleg reissue of their album on the Charly label did nothing to help the situation, as Charly went to the trouble to remove the band members' names from the artwork.

CLICK HERE to see the original album art.
Then CLICK HERE to see the bastardized Charly CD which omits the credits.

So who was that effortlessly funky man behind the drum set on that fateful recording session in New Jersey, whose music has graced some of hip-hop's most memorable and well-loved tracks? His name is George "Buzzy" Bragg. And neither he nor his bandmates ever saw a dime from that Charly bootleg, nor from the subsequent bootlegs-nor from all the samples.

No matter your position on the morality of sampling, or bootleg releases of out-of-print albums, you have to concede that it is a disgrace that the Skull Snaps' music has been used to such influential effect over the years while the men who made that music have effectively remained anonymous. Though such anonymity is not uncommon amongst even the most sampled artists, it is nonetheless something we can work to rectify.

All three Skull Snaps members (George Bragg: drums, vocals; Ervan Waters: guitar, vocals; and Samm Culley: bass, vocals) are alive and well today; and their story, as it thankfully turns out, does not begin and end with the release of just one album. In fact, in the bigger picture of these men's prolific careers, the "Skull Snaps" album-justifiably fetishized and fervently sought though it may now be-was exactly that: just one album. Samm Culley, for instance, had been a member of no fewer than nine bands by the late 1970s, including the relatively well-known R&B group The Diplomats.

I was first contacted by Samm Culley (this is the spelling he seems to prefer, though his is usually credited as "Sam Culley") in June of this year, and we have been in close contact ever since. He kindly agreed to grant the following interview, in the hopes that his story would be made available for Skull Snaps fans looking to learn a bit more about one of the most obscure yet influential bands in history. And now, as Samm says, "the truth will be told".





Where were you born, and how did you first get into music?
I'm from a small town on the Eastern shore of Maryland, Fruitland. I live in Connecticut now. I've loved music ever since I can remember. Actually, Tim Wilson and I started out in the '50s playing and singing as a duo [called, simply, "Sam Culley & Timothy Wilson"]. I had an uncle in the business, Frank "Floor Show" Culley, a great sax man in the '40s. I wanted to follow in his footsteps. I play a few instruments: keyboards, bass, drums, percussion, and local arrangements. I learned everything I could about studio recording and spent two years at the U.S. School of Music [1959-1960] during a two-year stint in the U.S. Army [Fairbanks, Alaska]. I returned home to pursue my career in the music business.

So after you got back from the army, you began gigging and recording as a musician full time, mostly around New York, and mostly with the same group of guys?
After the Army, my first gig was with my uncle Frank Culley playing keyboards. After that, I sent for the guys [Ervan Waters, Bill Collier, and Orlester Smith] to come to New Jersey. They did, then The Diplomats were formed. [For personal reasons, Orlester Smith eventually returned to Maryland and was replaced by Tom Price, and that trio also recorded under the moniker Sam, Erv & Tom.]

So how did The Diplomats become the Skull Snaps?
We never stopped being The Diplomats, we were working under both names [and also as The Soul Three]. We never stopped working under any of those names. Erv and I were already together when we met drummer George Bragg on a gig in Queens in the late '60s. Without one rehearsal, we played and sang together for six months, and it sounded like we had been together for years-just magic. We knew then that it was something special, so Erv and I went to work with George as Soul Three, it was a perfect match. We worked constantly for many years in clubs in the tri-state areas. We were famous for big things in small packages-meaning a small group of three sounded like ten: strong vocals and strong musicianship. I had such a natural feeling for vocal and music arrangements because of my studies at the US School of Music.

Was music your primary career or was it something you all did on the side?
We were very dedicated to our music. The Snaps are very strong singers, musicians and writers. We never saw ourselves doing anything but music. We knew if we had some say in the production of [the Skull Snaps] album, it would be a good one.

What follows is Samm's own timeline of his career, with elaboration when available:

1950's: Timothy Wilson and I played in a group called Sam Culley & Timothy Wilson.
1950's: Tiny Tim & The Hits: Orlester Smith, Tim Wilson, Lionel Brown, Thomas Price, William Collier, and myself. When Tiny Tim & The Hits were formed, I played keyboards for the group. All the guys are from the Eastern shore of Maryland, and we all went to the same schools and same churches.
[1959-1960: Stint in the U.S. Army in Fairbanks, Alaska, attended U.S. School Of Music concurrently.]
~1961: Returned from the Army, played organ in the Frank "Floor Show" Culley Band.
1962/63: The Diplomats: Ervan Waters, William Collier, myself, and Orlester Smith [replaced by Thomas Price in the late '60s].
1960's: Sam, Erv & Tom was formed when Bill Collier left The Diplomats to pursue other interests. [Bill stayed in New York until 2000, then retired to Maryland.]
1960's: Soul Three: George Bragg, Erv and myself.
1970's: Skull Snaps: Ervan Waters, George Bragg, and myself.
1970's: Buzzy Bragg [during Skull Snaps]: George, Erv and myself.
1970's: All Dyrections: Ervan Waters, George Bragg, and myself.
I've also seen you credited as The Puzzles, or The Four Puzzles, is that correct?
The Puzzles were a group I produced for Fatback Records. At the time, the lead singer had a voice problem and couldn't sing the song ("My Sweet Baby"), so I sang the lead vocal; but we are not The Puzzles.
So, why all the name changes?
The reason for all the names was we were under contract and couldn't use the name "Diplomats". But I had many other projects:
Herb Rooney and Brenda Reed, the mother and father of Corey Rooney, were very good friends and writing partners. They were the group The Exciters. I knew Corey from when he was a baby, and I had a great influence on his career. He learned to play keyboards from me-he used to sit under the piano when his father and I wrote songs. He learned to produce, write, and sing. I had the pleasure of meeting Markie Dee of the Fat Boys. His mother, Tony Simpson, and I started a record company called Rose Tone Records. The first record on the label was Brenda Reed (Corey's mother)-she went by the name Awesome. From that I introduced Corey and Mark [Markie Dee]; and they got together and started to produce other acts, like Mary J. Blige, Big Daddy Kane, and others. The rest is history. Corey became a great producer in his own right.
I know you remember the "Rappin' Duke" record [by Shawn Brown]. We recorded one also [called] "Rappin' Duke & Friends" under the name of our drummer, Buzzy Bragg [aka George Bragg of "Skull Snaps" fame], on Toe Jam Records.
Screamin' Jay Hawkins ("Africa Gone Funky"). We met Screamin' Jay through our friend Al Gee/Al Germany, radio DJ for many stations in NY. We discussed writing a song for him which turned out to be "Africa Gone Funky", produced by me for Marc Shawn Production, music was provided by the Skull Snaps and that was a classic. See if you can find that one.
One of the first rap gospel groups, Crew Devastation.
I come from a very musical family; everyone sang or played an instrument. So I guess that's what gave me the production bug. I produced some music for a movie called Only in America, the Don King Movie, with my friend Freddie Foxx. I'm now producing a new rap artist named Rick Dada, who I think will take rap to the next level-look out for him. I also produced the latest Lloyd Price album, co-wrote most of the songs. It was a great experience. I have been a part of some great careers like Tony Drake...and also the Fatback Band.
Tell me a bit about the other guys in the various bands (and where they are now if you can).

William Collier.
Bill is the quiet one, a man of few words. He sang tenor-bass and lead. He knew a hit when he heard one. He lives in Maryland today.

Thomas Price.
Tom is a great writer and has a natural baritone voice. He was the last person to join The Diplomats, replacing Orlester Smith. Tom lives in Queens, New York.

Ervan Waters.
Great lead voice, great writer. He plays guitar very well and came from a musical family. He lives in the Bronx, New York.

George Bragg.
G.B.-great lead vocalist, plays trumpet, fantastic drummer. The man is magic. He lives in Harlem, New York.

Lionel Brown.
Lionel was a great vocalist and a good writer. He is deceased.

Orlester Smith.
Smithy is a great writer and vocalist, a great showman. He lives in Maryland today.

Howard "Timothy" Wilson.
Tim, great lead singer, fantastic ear for music, writes very well. Lives in New Jersey.
What songs do you feel most proud of?
The track I'm most proud of is "Here's a Heart" by The Diplomats, it was the beginning of our professional career. My favorites are "All of a Sudden," "Didn't I Do It to You," and "I'm Falling Out of Love" from the Skull Snaps album.
You've recorded on Roulette, Arock, Wand, Minit, Fatback, Dynamo, GSF, and Grill Records...
The different labels gave us full control of our vocal arrangements. Roulette was my first time in a recording studio. It helped me make up my mind as to what I wanted to do in the music business. Arock took us to the next phase with "Here's a Heart" in our hands, plus we met very powerful people there, like Van McCoy, Buddy Smith, Big Al Sears, Ed Townsend, and Wally Roker, just to name a few. Fatback is where I first started to produce acts like The Puzzles, Mary Davis, and others. At Wand, we met some great people like Nick Ashford and Valerie Simpson, Chuck Jackson, Luther Dixon, and the Shirells, to name a few.
George Kerr did the production on your legendary Skull Snaps album on GSF.
George Kerr joined us on the production of the Snaps album. He also brought some great songs to the project. Kerr is a very creative writer and producer. He's a good friend. I learned a lot about production from George Kerr.
How much did George Kerr influence the sound? How different was the Skull Snaps album from your live gigs?
The Skull Snaps album is all Skull Snaps. Our live performance is even more fantastic than the album.
What exactly does the name Skull Snaps mean?
This name was all about our live performances. We are a very dynamic group: In person we sound like many different artists; so when people saw us they said, "You guys do more than just blow our minds, you snap our skulls." So we flipped it to the Skull Snaps. We were a three-man group that sounded like ten people because of our vocal power and our playing ability. We all play more than one instrument.
I read about Ain't That Lovin' You, an obscure Skull Snaps follow-up album on Grill Records, and a 45 called "Come Back" on New Moon and Right On.
On Grill Records, there was only one 45 made: "Ain't That Loving You / Al's Razor Blades"; no album was ever made. [These tracks are slated to appear on the forthcoming "Skull Snaps" reissue album as bonus tracks. -Ed.] "Come Back" on New Moon and Right On has nothing to do with us. I've never heard the song.
Tell me about the Skull Snaps recording sessions.
We recorded the Snaps album at Venture Studios in Somerville, New Jersey. At the time, the studio was still being built as we recorded. It took maybe a month to do the album. I guess the weird thing about this album is all the songs were done in one take-everything about the session was magic. I'm very proud of the entire album. I think it is one of the tightest albums ever recorded.
How long after you finished recording was the album released? And what was the impact on all of your careers when it came out?
Maybe two months after it was finished, it was released. We were one of the first local groups to record a professional album. We were already working seven days a week; of course our paychecks got bigger.
When you think of the Skull Snaps album, how do you feel it compares to your other work with the guys?
Good question, but I'll let our fans answer that question.
The most famous track you've ever recorded is "It's a New Day," which is well sampled thanks to George Bragg's drum break in the first two measures. Did you realize at the time that this track would be the standout on the album?
We didn't know "New Day" would be the song on the album. We just wanted everyone to get the message as we did with all our songs. When we played live, we often opened the set with a drum break just to set the mood, so this is what we did on "It's a New Day."
Was the Snaps album a big financial success for you or for GSF?
This was a financial success for GSF and all the bootleggers, not the Skull Snaps.
How was the album received by the public and critics when it came out?
Everybody thought it was a great album. GSF did zero promotion on this album. Everyone thought that the album was ahead of its time. I agree.
Was there ever talk of doing a follow-up album?
No, but when we did the album, we recorded enough for two albums, so, trust me, there will be another Skull Snaps album.
Did all the artists own a piece of the Snaps album? Have you ever received any royalties?
We own the Skull Snaps album; we are Mark Shawn Productions [aka Marc Shawn Productions]. We made no royalties on this album. The first legal reissue will be in 2005 on Aztec Records.
Why is the Skull Snaps reissue only finally happening now?
When we released the Snaps album, everyone said it was ahead of its time. It really didn't fit in the top ten. It was different, so it didn't get airplay-plus GSF didn't promote the record. The reason it took so long is we didn't know that everyone in the U.K. liked our Snaps album until we went there as The Diplomats [to perform live and to promote the release of The Diplomats Greatest Recordings CD on Kent/Ace]. Long story short, that's when the world finally caught up with the Skull Snaps, and for the first [time] the world will see and hear the many sides of Skull Snaps.
As one of the most sampled artists in history, how do you feel about the whole sampling phenomenon? On the one hand, it's elevated the Skull Snaps to a worldwide legendary status you might not ever have achieved. On the other hand, as you told me, you haven't seen a single dime from sample clearances after all these years.
The sampling phenomenon: Yes, it did make us the most sampled artists in history; but I think all who didn't pay for sample clearances should know this: You stole from us, and our families. Some even used our name in their lyrics. Everyone asks us are we okay with all this; well the answer is hell no-we take it personal. I think all the artists who [sample] should pay tribute to artists like Skull Snaps and others. Maybe someone out there could put that special together for TV. Charly Records stole from us for years without hesitation, they have pimped the Snaps album to the fullest. Charly Records, beware, we are pissed off, but the world is pissed off more, and you will go down in history as a large piece of shit.
You said you were interested in doing live gigs. What is the best way to contact you and the band?
Anyone interested in [contacting us or] licensing material from our album should contact Samm Culley at sammculley22@fastmail.fm.
Anything else you would like to share with your fans?
The truth will be told.
The first legal reissue of Skull Snaps is scheduled for release in October 2005 on Aztec Records. It will be remastered from DAT taken directly from the 2-track master and will include the rare, post-LP bonus tracks "Al's Razor Blade" and "Ain't That Lovin' You." Visit the Skull Snaps/Diplomats website at www.comluv.net.